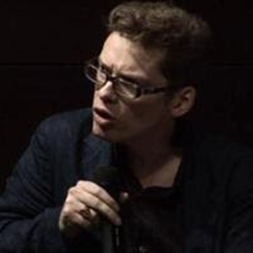 Verantwortlich für die fotografischen Sammlungen des Centre national des arts plastiques,
Paris, Autor von Essays und Gesprächen die sich, unter anderem, mit Arbeiten von Maria
Thereza Alves, Philippe Durand, Jimmie Durham, Cécile Hartmann, Candida Höfer, Ange
Leccia, Teresa Margolles, Allan Sekula, Bruno Serralongue, Jean-Luc Vilmouth und Wang Du,
befassen.
Als Kurator von Ausstellungen präsentierte er unter anderem folgende Ausstellungen: La Cabane (Palais de Tokyo, Paris, 2006) SameSame but different (Tina B.VeletrziniPalàc, Prag, 2006 ; Welcome to Heterotopia !! (Triennaled' Echigo-Tsumari, 2006), Investigations (Maison Descartes, Amsterdam, 2007) Void Has No Exit (Creative Union, Hiroshima, 2008), The Clearing (Triennale zeitgenössischer Kunst, Narodnigalerie v Praze, Prag, 2008) Hiroshima Art Document (Former Bank of Japan, Hiroshima, 2010), Numero Tres (La Virreina – Centre de la imatge, Barcelona, 2012), Knowledge is Power (Photo España, Madrid, 2013), The Secret Sea (Onomichi City Museum of Art, Onomichi, 2013), Supernature (Kyotographie, Kyoto, 2014).
Preisträger des Programms der Villa Kujoyama – Institut Français/Aussenministerium – Französisch-Japanisches Institut in Kansaï, Residenz der wissenschaftlichen Mitarbeiter und Künstler in Kyoto (2007).